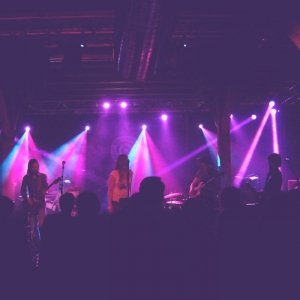 THE PSYCHEDELIC TRIP OF THE GRATEFUL DEAD AT RE-WOODSTOCK WITH THE SWISS AOXOTOXOA
At the Re-Woodstock Festival on Saturday July 29th be prepared to a "psychedelic trip" together with the Swiss band AoxoToxoA and the Grateful Dead's music.
The Rock music of the Grateful Dead Band represented a big treasure chest just waiting to be discoveres and live performed. A to hard to resist temptation for the Swiss musician passionated by the Californian Band, so in 2003 the AoxotoxoA were born.
A concert with AoxotoxoA is an adventurous travel throughout the American alternative music world.
This Band is like a locomotive running, but unable to stay on rails and repeatedly derailing in different unexplored music landscapes were an attentive voyeger may discover a new world.
A very rich in style concert, going through Blues, country, to jazz, funk, reggae, rock, folk, gospel and psychedelic ballads. Bass and drums invite to dance, while molodies and sound passes let the mind wander through different moods and polyfonic singing warm the heart.
The Grateful Dead are probably the most representative band of the spirit of that time, it was impossible to frame their music in a kind, they were constantly looking for new sounds and experimenting.
Sadly their performang was ruined by several technical problems, rain caused electricity leakages on stage and both Jerry Garcia and Bob Weir remebered being electrocuted touching their guitars.